Campaign Spotlight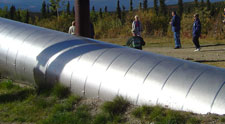 Updates, videos and photo slideshows from the Joint Review Panel hearings in Northern B.C. communities Learn more
Featured Article
The Canadian government is asking the Federal Court of Appeal to uphold its controversial decision to approve the $7-billion Northern Gateway pipeline project.
First Nations, environmental groups and a union are asking the court to quash the decision because of an alleged failure to consider environmental threats or consult with aboriginal bands.
But government lawyer Jan Brongers argued Tuesday that the federal review was extensive, and there must be a high bar for a court to overturn a democratically elected cabinet's decision.
"It is our firm position that the order-in-council, which is the culmination of a…