Campaign Spotlight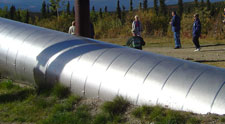 Updates, videos and photo slideshows from the Joint Review Panel hearings in Northern B.C. communities Learn more
Featured Article
District of Kitimat Council voted four to one Monday night to officially oppose the Northern Gateway pipeline, terminal and tanker project.
After a lengthy debate, Mayor Joanne Monaghan, Councillors Phil Germuth, Mario Feldhoff and Rob Goffinet voted in favour of the motion. Councillor Edwin Empinado voted against the motion. Councillors Mary Murphy and Corrine Scott were absent due to illness.
Part of the debate was a search for unanimity and that meant simplifying the original motion from Phil Germuth, eliminating references to the Haisla Nation and "neighboring communities," largely at the insistence of Mayor Monaghan.
Germuth's…